Catering, We Bring The Islands To You
Traditional Guides Shore Dinner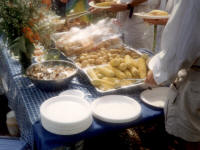 Capt. Clayton (Muskie Ferg) has been guiding fishing parties since 1966. Most parties ended their day with a shore dinner. Through the years local people asked if they could have the shore dinner without the fishing trip so we got a license and took the shore dinners to the mainland as well as private islands.
It has been a great success! Some of the most recent dinners have been for the Antique Boat Museum, Thousand Islands High School, the US Army Dept. of Conservation, NY State Parks, the Clayton Chamber of Commerce Citizen of the Year dinner, and many local residents.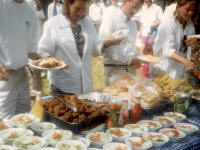 Once you have a shore dinner your friends and family will want to do it again!
- Fried Fish or Grilled Chicken
- Fat Back & Onion Sandwiches
- Tossed Salad or Vegetable Tray
- Salt or Steamed Potatoes
- Corn on the Cob
- Guides French Toast (With Real Maple Syrup)
- Coffee or Lemonade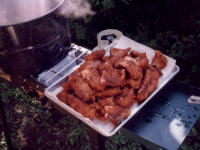 Expertly Prepared by Capt. Clay Ferguson, Licensed by the State of NY
Call for pricing: (315) 686-3100
For Your Next Get Together: Weddings, Company Picnics, Birthdays, Reunions or Just For Fun!